In continuation with our success legacy, Millennium is resplendent yet again, with the achievements of all the top scorers of both our batches of Std X & XII (CBSE 2018-19)!!
Appreciation being the Millennium way to encourage good behavior and inculcate a healthy competitive spirit, we endeavor to recognize the talent and motivate them to realize their potential and get ready to face the outer world.
We felt immense pride in felicitating the student-achievers of this year in a function organized in their honor on Tuesday, 25th June 2019 in Dr. Sudheer Phatak Memorial Hall in the school premises.
To grace the occasion, we had with us Dr. Abhijit Sonawane who is working to bring medicine to the most deprived group of individuals in Pune, India. Under the organization, Soham Trust, he along with his team of doctors for beggars treat individuals who do not have financial means for medical treatments.
This year continues the trail of stardust to match the Millennium legacy of brilliant academic results since inception. This year 111 students out of 197 have scored above 90% in their class X CBSE Board Exam. In addition to that, 50% students from Std XII have scored 85% and above in their CBSE Board Exam (2018-19)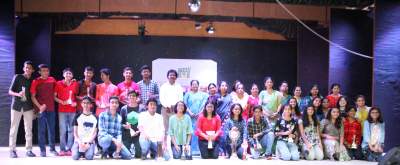 The Subject toppers for Std X (2018-19) are-
Tanvi Kulkarni & Nidhi Kondejkar have scored 99 out of 100 in English.
Nidhi Kondejkar, Tejal Kulkarni, Kushal Bhalgat, Chinmayee Gokhale, Isha Shinde, Shaunak Karmarkar, Harsh Nikam, Parth Kulkarni, Atharva Vishwasrao, Harsh Amble, Pranati Limaye, Siddhanth Tonapi, Tanaya Deshpande, Tanmayee Dabhadikar, Ria Misal, Kharanshu Shah, Shruti Mengde are the subject toppers in Sanskrit with a perfect score of 100 out of 100!
The top scorers in Marathi Language with 99 out of 100 are Anagha Deshmukh, Akash Bhade & Yadnesh Chhatre
Tejal Kulkarni, Siddhant Tonapi, Tanvi Kulkarni, Mitra Barve & Dhruv Aggarwal are the toppers in Maths with the best scores possible i.e. 100 out of 100.
Tejal Kulkarni is the only topper in Science with 100 out of 100 marks.
The subject toppers in Social Science with 99 out of 100 are Akash Bhade, Bhagawati Iyer, Ankit Bhade, Chinmayee Gokhale, Simar Sharma.
The top rankers of Std. X are Dhruv Agarwal & Mitra Barve, sharing the third position with 97.8%, Nidhi Kondejkar in the second rank with 98% & Tanvi Kulkarni topping the batch at 98.2%!!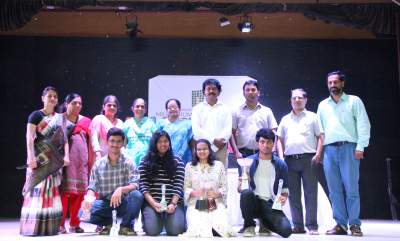 Our toppers of Std. XII CBSE (2018-19) are-
The Subject toppers
Purva Unde with 98 out of 100 in English
Naman Gupta has scored 99 out of 100 in Maths, 99 out of 100 in Physics & the sacrosanct score of 100 on 100 in Computer Science
Aishwarya Belagali is the subject topper in Maths with 99 out of 100 & in Chemistry with 96 out of100
Raghav Paranjape & Rinal Badadiya are the toppers in Biology with 98 out of 100
The top rankers of Std. XII are Raghav Paranjape with 95.6% in the third position, Aishwarya Belagali with 96% in the second position and Naman Gupta has topped with 96.8%!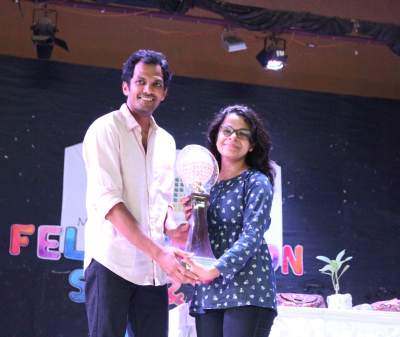 Shaunak Karmarkar & Nidhi Kondejkar were felicitated as the Best Outgoing Students of this year as well as the proud recipients of the prestigious trophies of Late Dr Sudheer Phatak award and Late Mrs. Vaidehi Phatak award!!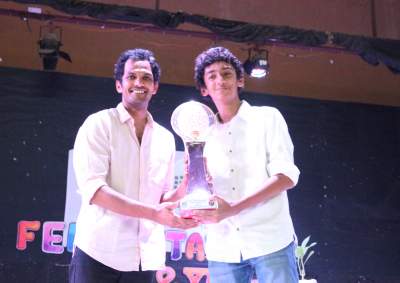 These were special moments of immense joy when the award winning students sparkled amongst their awards & trophies. In their straight from the heart speeches, they expressed their gratitude towards the school and the teachers as well as motivated their juniors to put their best foot forward.
The entire year of dedication, hard work and will to succeed of these children had earned them the accolades along with smiles, applause and cheering all around!